I completed my reflexology training over fifteen years ago (in 2004). Since qualifying, I have attended postgraduate training in the following specialist areas of reflexology: pain & mobility, sports & injuries, hot stone, (VRT) vertical reflex therapy, sleep problems, fertility and pregnancy. I have undertaken personal research into digestive reflexology, menopause & hormone reflexology, reflexology for babies, toddlers, children and reflexology for insomnia.
Reflexology enhances the body's natural healing powers by releasing energy blockages. These can be caused by stress, poor diet, pollution and day to day living which can result in imbalance, fatigue and illness. By stimulating reflex points on the feet, this pleasurable therapy corrects imbalances and eliminates toxins, restoring and maintaining good health.
Reflexology is a truly amazing treatment that relaxes and rejuvenates on both a mental and a physical level. By applying gentle pressure to areas of the feet and stimulating the reflexes, a positive effect is created in the corresponding area of the body. The feet are a mirror image of the bodily systems, glands and organs.
I have experience of working with the following difficulties:
Pain - sports injuries, trauma injuries, nerve pain and long-term pain
Postural problems - pelvic tilt, thoracic twist, sciatica, frozen shoulder, back pain, and postural difficulties after back surgery
Sub-fertility and clients undergoing assisted conception (IVF, IUI, ICSI and clients on medicated cycles)
Pregnancy during all three trimesters and supporting mothers postnatally
Digestive problems - Irritable bowel syndrome (IBS), constipation, wind, acid reflux and more
Respiratory problems - congestion, frequent infections, asthma, COPD and cystic fibrosis
Anxiety, stress, insomnia and depression
Peri-menopause and menopause, menstrual problems, PMT, hormonal imbalance, PCOS, endometriosis and fibroids
Fibromyalgia, ME, chronic fatigue, arthritis, osteoporosis, MS, joint hypermobility, Parkinson's and other neurological medical conditions
As reflexology is a calming and gentle complementary therapy, beneficial for numerous conditions, it is suitable for all ages. I have experience of working with young children and the elderly and I can work in a ground floor room for those with mobility problems.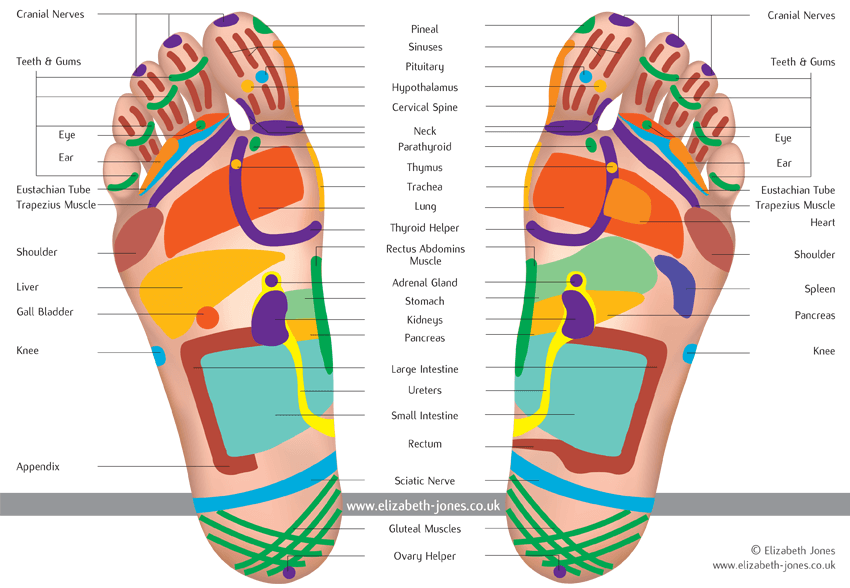 A typical Reflexology treatment
My one-hour treatments incorporate the use of hot stones, cold stones, crystals, reiki, aromatherapy, VRT (vertical reflex therapy), pain & mobility reflexology, sports and injury reflexology, advanced spinal and advanced relaxation techniques. I also utilise techniques for digestive complaints, menopause and hormonal problems
I cleanse the feet using hot flannels and use Elizabeth Jones Natural Skincare's hand-crafted balms on the feet. Calendula Balm for dry skin and Comfrey Balm for clients with pain, injuries or stiff feet
I massage the lower legs and feet with hot basalt stones and a blend of essential oils. I tailor each individual treatment to suit the needs and wishes of the client
I use a very comfortable reclining chair and heated pad for the lower back which encourages clients to totally relax and enjoy the treatment
I use extra pillows, bolsters and blankets to ensure maximum comfort. I prop and adjust pregnant women to avoid them feeling uncomfortable or light-headed. I can also perform reflexology on my massage couch which is very comfortable, padded and has a heated blanket
I complete each treatment with a foot massage using cranial sacral osteopathic and relaxation techniques. I also use crystals to balance the client's energy fields
Reflexology is very effective and powerful and I really love seeing good results with clients